Retirement Quotes for Teachers
Teachers often have profound and long lasting effects on our lives. This is because they become more than just teachers. They guide us through the difficulties of getting older and their experience and knowledge acts to mentor us on more than just the school curriculum. Their teaching can have a direct impact on how we turn out as a person and what we go on to achieve. So if you're lucky enough to get a good one you should be very grateful. So much so that when they retire they deserve all the thanks and best wishes you can give.
However, finding the words to express just what they've meant to you can be tough. A teacher you connect with can end up meaning the world to you. So you want your retirement wishes to them to be from the heart and say just how special they've been to you. If that's a struggle for you then try these teacher retirement quotes and messages as an inspiration. Or use them as they are for your retirement card.
Retirement Quotes for Teachers
Your dedication, patience and kindness will never be forgotten. We couldn't have had a better teacher. Thank you for everything and have a wonderful retirement
Education is one thing, but you gave so much more. You helped me rise and soar. I'll miss you. Have a wonderful retirement
To the worlds best teacher - have an amazing retirement!
We won't forget your hard work and warmth, even when we were such a nightmare to teach! Good luck in the future and enjoy retirement
Dear teacher, I'm going to miss you so much. You helped me achieve more than I could have ever imagined. Enjoy your retirement!
After dedicating your life to children it's time to look after yourself. Have a great retirement
They might hire another teacher but nobody will be able replace the special place you've taken in our hearts. Have a fantastic retirement
Your legacy will continue on long after you retire and help to inspire the next generation of kids. Happy retirement!
I'll miss you as my teacher, but miss you more as someone I could call a friend. Enjoy your retirement
You will always be in our hearts. Thank you for being a truly inspirational teacher. Good luck with your retirement
Congratulations on an amazing career. You were the perfect teacher. I'll miss you
As you spend your last few days in school, I wanted to thank you for being such an awesome teacher
You can take some comfort knowing you retire will so much respect and love from each and every one of your students. Happy retirement
You've been the perfect teacher and inspired all of us. I will miss you more than I can say. Have a great retirement
Good teachers are the reason why ordinary students go in to achieve amazing things. Wishing you a truly happy retirement
The dedication you've shown to helping the young find their way is such an inspiration. Your care and attention is to be admired. So take a break and have the time of your life as you retire
Congratulations on an amazing career. You've had an incredible impact on so many children's lives. You should be so proud
We may be bidding you farewell but our hearts will never say goodbye to the wonderful things you've taught us. Happy retirement!
There will be hugs and tears, and although I'm sad you're retiring I will always cherish everything I learnt from you. Happy retirement
We will miss your wisdom and experience, but most of all, we will miss the encouragement you have been to us. We wish you the happiest of retirements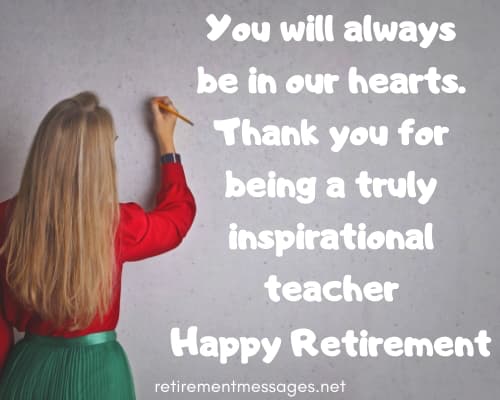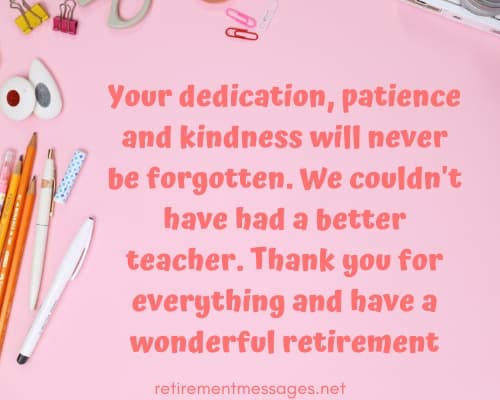 ---
Retirement Wishes for Teachers
It won't feel like the same school without you. Your presence will be missed by teachers and students alike. But you've earned a rest! So enjoy your retirement
You will forever remain in the hearts of the students you touched. Happy retirement to an outstanding teacher!
We may have acted like we hated school but your classes were what kept us going. Thank you, and have a special retirement
The school will feel so empty and our classrooms won't be the same without the inspirational presence of a teacher like you
Thank you for your endless patience, motivation and persistence. You helped me become the person I am today! Happy Retirement!
Teachers like you can help even the most lost child find their way. You're a one in a million and I'm so lucky to have been taught by you. Happy retirement.
You deserve the biggest party ever! This school should rename itself after you! Why? Because you're the greatest teacher anyone could ever have. Enjoy your retirement
I know I'm supposed to wish you a happy retirement but I'm going to miss you so much I'm not sure I can! Promise you won't forget your favourite student?
I was blessed to have you as my teacher. So much of what I've done in my life is down to you. So thank you, and have a happy retirement
Even though you're retiring the values and knowledge that you have given to your students will never retire
What to Say to a Retiring Teacher?
When a teacher or mentor of yours decides to retire it can be hard to find the words to express what they've meant to you. What do you say to a retiring teacher? Do you talk about the amazing career they've had? The positive affect their work has had in their students? Maybe look back on happy times you've shared together with them as your mentor? Or just simply tell them how much you'll miss them and wish them all the best. A lot will depend on what sort of teacher they were and the relationship you had. But whichever way you choose to wish them a happy retirement they will appreciate the effort and thought your gesture shows.
We've come up with this extensive list of wishes and tributes to a retiring teacher in the hope it will help give you some inspiration and ideas for the perfect words to honor a retiring teacher and how you say goodbye. You can copy these directly or use the tips below as a guide to writing your own.
Talk about your teachers contribution to their profession and the positive impact they've had on their students. Their dedication and passion for teaching should be celebrated.
Reminisce on memorable moments from their teaching career. Perhaps something amusing or a noteworthy achievement.
Let then know how much you're going to miss them. Not just the teaching aspect but also as a someone you looked up to and considered a friend.
Talk about the good things they have to look forward to once they've retired. The positive aspects of being able to do what they want, the freedom etc.
And lastly remember to be genuine in whatever you say and ensure it comes straight from your heart. If you do this then whatever is is you say will be received with gratitude and happiness.
---
You're leaving us with priceless memories and lessons that will last forever. We couldn't ask for any more. Thank you, and have a wonderful retirement
You did everything you could to help your students shine. Thanks for being a teacher so passionate and caring, we are all at a loss that you are now retiring
Your hard work and dedication to education should be commended. After years of helping others it's time to look after yourself. Wishing you a brilliant retirement
You were a miracle, a teacher sent by God to help me when I needed you most. I feel blessed to have been taught by you. But now I want you to enjoy your retirement to the fullest
Most teachers come and go but you are the real deal. I can't thank you enough for you're inspiring lessons. I hope you enjoy your retirement and have lots of fun!
I knew this was coming but we didn't want to face it. You were and still are the best teacher anyone could have. I don't know what school will be like without you now. But have an amazing retirement
I know not just our class but the whole school will be sad today. Losing a teacher like you to retirement is going to be tough for everyone to take. Promise you'll come back and visit!
Your retirement is an accumulation of years of hard work, of the help and support you've given to children, and the inspiration you've been to everyone. You can look back on your career and be so proud
Your dedication to your work and patience with us students has been remarkable. I'm so sad you're leaving us but wish you all the best with our retirement
I wonder how many young lives you've helped, and how many of them think of you and what you did for them. I know I'll always treasure your wisdom and guidance. Thank you fir everything and enjoy retirement
---
Sample Retirement Message for Teahers
We are dedicated to making sure writing a retirement card message is a simple process, giving you the chance to say exactly how important your teacher was to you. If you want to go the extra mile you can also give a gift or flowers to wish them farewell as they begin their new life of freedom. A special gesture can really demonstrate their importance to you and others.
Funny Retirement Quotes for Teachers
A good way to show how much you care about someone is by making them laugh. A joke or quip about the retiree may be perfect for your message. If so then our selection of funny retirement wishes might have just what you need. A funny quote or saying that has a little fun at your teachers expense and puts a smile on their face could be perfect for saying just how much you're going to miss them but without getting overly sentimental.
---
Your retirement is a celebration of the patience and tolerance you showed in putting up with annoying students all your life. Congratulations
Today is your Retirement Day and Independence Day because you will finally get freedom from quarreling kids, annoying students, dominating supervisors and a nagging principal. Happy retirement
If you thought that dealing with crazy students was the hardest thing you had to do in your life, wait till you have to deal with grandkids after retirement! Good luck
Dear teacher, retirement is when life finally comes around and asks you to go on a permanent vacation. Happy retirement
Welcome to a new phase of your life when you will no longer associate numbers with grades, bells with classes and a marker pens with a whiteboards. Have fun!
I wish I could become the President of this university, if only for a day… I would cancel your retirement, and for a longer tenure pave the way
You were always our favourite teacher and that's why we were so well behaved. Your replacement better watch out though! Happy retirement!
"I'm not just retiring from the company, I'm also retiring from my stress, my commute, my alarm clock, and my iron" - Hartman Jule
---
Teacher Retirement Poems
A poem can be a surprisingly good way to let a teacher or mentor know how special they've been to you. Our range of retirement poems are suitable for many situations and can be used to accompany a card or gift/flowers or even shared on something like Facebook, letting other students or colleagues also wish them a long and satisfying retirement.
Farewell Teacher Retirement Quotes
Saying farewell to a beloved teacher who's been there for you isn't easy. So ensuring they know just how important they've been to your learning and development will be key. You will also want to thank them for all they did for you. Make sure your farewell message wishes them a lifetime of happiness and a fulfilling retirement, as well as letting them know how much you will miss them.
Learning from a good teacher is an experience that can sometimes be more profound than the education itself. You have given me just that. Thank you, farewell and have a great retirement
Every single day you strived to inspire us. Even during the toughest times you were here to help us through. No one will forget you and the memories will live on long after you retire. Farewell
Farewell to a teacher who inspired and nurtured. I will always appreciate everything you did. Enjoy retirement
It's time for us to say goodbye. You'll soon be enjoying life at a quieter and slower pace there will be more time to spend with family and friends. Please remember all your students as well miss you! Farewell
I can't believe you won't ever stand at the front of the class and inspire us anymore. I'm going to miss your classes and your patience with us, even when we didn't deserve it. I hope your retirement is all you hope it will be and more
Farewell to my favourite teacher. You've earned a wonderful retirement but I'm going to be so sad to see you go. Please keep in touch
Retirement for a teacher means giving up a job, not giving up the right to teach. Even after you retire, I hope you never stop imparting wisdom and teaching kids the important lessons of life. Happy retirement
Coming in to class just won't be the same without you there. Farewell and best wishes for an amazing retirement
The contribution and improvements you made to my learning, discipline and life in general are hard to explain. I can honestly say I wouldn't have made it this far without you though. Thank you for everything and enjoy your well earned retirement
Retirement Resources