Funny Retirement Quotes
When we reach a certain point in our lives we begin to think about retirement. It can bring about a whole variety of emotions and feelings - some good, some bad. The luxury of being able to do what you want, when you want and not having to face the drudgery or hardship of work are some of the benefits of retiring. On the other hand you may be worried about having nothing to do, a lack of worth without a job or the financial problems that can arise from retirement. These are normal feelings for someone on the verge of retiring.
So if you are looking to wish someone a happy retirement you may want to add a bit of humour to your best wishes. Unfortunately many retirement quotes are quite negative and downbeat about retiring. They focus on the loss of mental faculty, the downside of a career and even death. But they don't have to. Retirement is often a time of happiness, laughter and fun.
So if you're struggling to find the words for a funny retirement message, or just want a laughable and irreverent take on retiring, try this collection of funny retirement wishes and quotes that will help see a friend or colleague heading off into the sunset with a smile on their face.
Funny Retirement Quotes
"Retirement is wonderful. It's doing nothing without worrying about getting caught at it." - Gene Perret
"When a man retires, his wife gets twice the husband but only half the income" - Chi Chi Rodriguez
"There are some who start their retirement long before they stop working" - Robert Half
"I have never liked working. To me a job is an invasion of privacy." - Danny McGoorty
"In retirement, every day is Boss Day and every day is Employee Appreciation Day." - Terri Guillemets
"There's never enough time to do all the nothing you want." - Bill Watterson, Calvin and Hobbes
"The trouble with retirement is that you never get a day off." - Abe Lemons
"I'm retired - goodbye tension, hello pension!" - Author Unknown
"Retirement: It's nice to get out of the rat race, but you have to learn to get along with less cheese." - Gene Perret
"When a man retires and time is no longer a matter of urgent importance, his colleagues generally present him with a watch." - R.C. Sherriff
"I enjoy waking up and not having to go to work. So I do it three or four times a day." - Gene Perret
"I would like to extend my condolences to your employer for the devastating loss. Happy retirement!"
"Retirement adds 5 days to your weekend! Enjoy it!"
"When you retire, you switch bosses - from the one who hired you to the one who married you." - Gene Perret
"Retirement can be a great joy if you can figure out how to spend time without spending money." - Author Unknown
"The best time to start thinking about your retirement is before the boss does." - Author Unknown
"Yes," he laughed, "I've been attending lots of seminars in my retirement. They're called naps." - Terri Guillemets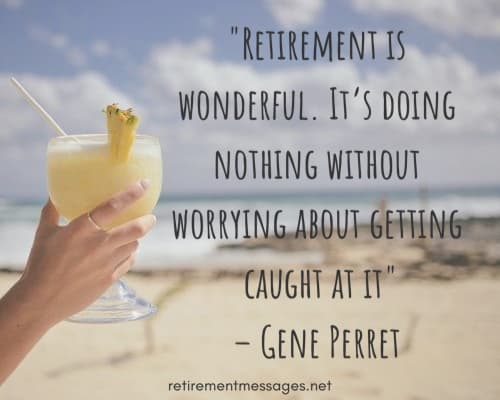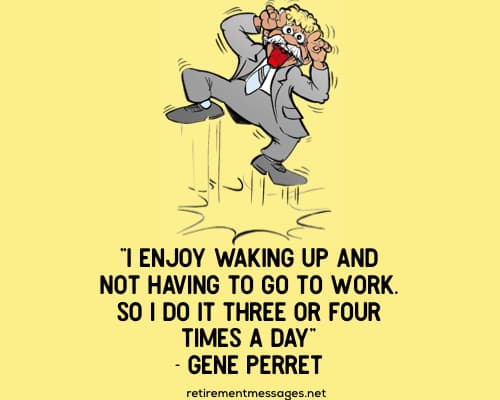 ---
Funny Retirement Wishes
"One of the problems with retirement is that it gives you more time to read about all the problems of retirement."
"What? Are you old enough to be retiring?"
"You are a person I really admire, because you are a person who gets to retire."
"Middle age is when work is a lot less fun and fun is a lot more work." - Author Unknown
"Enjoy your permanent weekend."
"Your retirement will leave an empty space in our hearts, not to mention the break room fridge."
"This place won't be the same without you. In case you're wondering, that's a compliment."
"The world's longest coffee break is often referred to as retirement."
"Retirement is just a never-ending vacation."
"Now Fridays aren't the best day of the week anymore - they all are!"
"Your retirement brings out a lot of emotions in me, but I'd have to say envy is the biggest one"
What to say in a Funny Retirement Card
Writing or coming up with a funny retirement message is tricky. We're not all comedians, right? But there are ways to find a humorous take on retiring that will be perfect for your friend or colleague. And a clever retirement saying can really lighten the mood or help banish some of those retirement nerves the recipient may be feeling.
We've put together this wide selection of funny retirement quotes so you can find the best message to make a retiree smile. If you consider yourself a bit of a joker and think you can write your own retirement joke or one liner then try these steps.
Firstly, be aware of how your message or joke may sound. You want to be funny but don't want to cross the line into offensive.
Stay positive. Some jokes or one liners can be harsh and nasty. Stick with gentle ribbing or making fun of the retiree so as to not make them feel worse about their retirement
Be absolutely sure and confident the recipient will be open to a jokey message. People's sense of humour differs so keep in mind not everyone will be so relaxed about a joke at there expense
Reliving or retelling an amusing anecdote or story involving the retiree can be a great way to reminisce on the good times without causing offence.
Finally - have fun with it!
---
"You can't retire from being great." - Unknown
"What do you call a person who is happy on Monday? Retired." - Unknown
"Retirement: World's longest coffee break." - Unknown
"Why do retirees smile all the time? Because they can't hear a word you are saying!"
Think about retirement as being two six-month holidays per year."
"When is a retiree's bedtime? About 30 minutes after they fall asleep on the couch."
"Spreading sheets sounds more appealing than a spreadsheet." - Unknown
"Retirement: No Job, No Stress, No Pay!" - Unknown
"Retirement: When you stop lying about your age and start lying around the house." - Unknown
"He who laughs last at the boss's jokes probably isn't far from retirement." - Unknown
---
Funny Retirement Card Messages
Our goal is to help make writing the perfect retirement card message that little bit easier, and give you the opportunity to give whoever is retiring a laugh as they finish work. Using a personal story or memory from your time working together can add an extra bit of personality to your card. Think about any funny moments you've had and maybe include one of those.
Funny Retirement Quotes for Cards
Using a funny retirement quote to make a retirement card a bit more special is a good move. Some cards can be a little dull or lacking in imagination. Taking the time to think up something more memorable will be appreciated. Plus laughter is welcomed in most situations, and the good natured joking of friends and family can help to make retiring seem less daunting if they have any nerves.
---
"Some of the best memories are made in flip flops." - Kellie Elmore
"When men reach their sixties and retire, they go to pieces. Women go right on cooking." - Gail Sheehy Perretgolf.
"Retirement is wonderful. It's doing nothing without worrying about getting caught at it" - Gene Perret
"I'm not just retiring from the company, I'm also retiring from my stress, my commute, my alarm clock, and my iron." - Hartman Jule
"Instead of saving for someone else's college education, I'm currently saving for a luxury retirement community replete with golf carts and handsome young male nurses who love butterscotch." - Jen Kirkman
"You have to put off being young until you can retire." - Unknown
"Retirement is like a long vacation in Vegas. The goal is to enjoy these years to the fullest, but not so fully that you run out of money." - Jonathan Clements
"Retirement at sixty-five is ridiculous. When I was sixty-five I still had pimples." - George Burns
"You are only young once, but you can stay immature indefinitely." - Ogden Nash
"A lot of our friends complain about their retirement. We tell 'em to get a life." - Larry Laser
---
Funny retirement Quotes for Coworkers
A colleague leaving can be a really sad time. You may have known and worked with them for years. So to lose someone from your working life can be disappointing. But you can trying to find some happiness and humour in their leaving is important and focusing on the positives should be encouraged. That's why humour is so useful in times of change and fear - it can relieve the tension and remind us of the good times.
Funny Retirement Quotes For Teachers
Teachers are important guides and mentors to us as we grow and learn. So when they retire it can be a real disappointment. But you can say goodbye and wish them all the best in their next chapter with a retirement quote. And if your relationship lends itself to it then a funny retirement one liner or joke could be a great way to see them go with laughter, not sadness.
"I can't wait to retire so I can get up at 6 o'clock in the morning and go drive around really slow and make everybody late for work." - Unknown
"How do you know it's time to retire? It's when you stop lying about your age and start bragging about it!"
"A retired husband is often a wife's full- time job" - Ella Harris
"My retirement plan is to get thrown into a minimum security prison in Hawaii." - Julius Sharpe
‏
"Retirement is like coming home one day and telling your wife, honey, I'm home... for good!"
"Now your only job is having fun – and I know you're a real pro at that."
"In your retirement years never drink coffee at lunch; it will keep you aware in the afternoon." - Unknown
"Can you say Senior Discount? Hope you enjoy all the perks of retirement."
When you retire, you switch bosses – from the one who hired you to the one who married you." - Unknown
"If people concentrated on the really important things in life, there'd be a shortage of fishing poles." - Doug Larson
Retirement Resources