Retirement Images and Quotes
Retiring can be both a happy and sad time for people. It may have been something they've looked forward to for years. Or a time they've been dreading and want to avoid. Something that will always be helpful though is the love and support or family, friends and the people surrounding them. If you happen to be one of those then you may be wanting to wish someone a happy retirement or tell them it's all going to be okay. This can be done in person, with a card or gift or even on social media like Facebook. But something a bit more interesting than a standard retirement message is a retirement image.
A retirement image with quote is a picture that wishes the retiree well, makes a joke of it or expresses hope for their life after work. They often are accompanied by relevant retirement quotes or sayings that sums up the situation in a few short words or lines.
Below you'll find a large selection of our very own images for retirement. These are our own pictures that we're sharing with you to use on Twitter or Facebook. If you are going to share them or use on your own website then we don't have a problem but please credit us.
Hopefully these retirement images will help you in support, celebrating and congratulating a friend or family member who is retiring.
Retirement Images and Quotes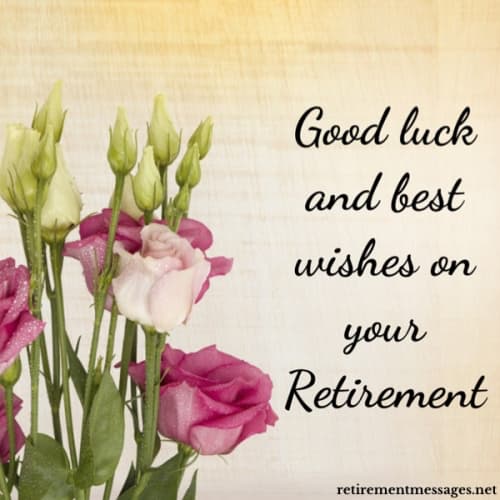 Best wishes on your retirement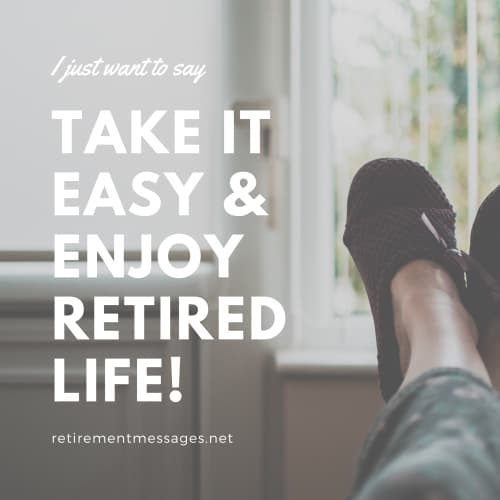 I just want to say - take it easy and enjoy retired life!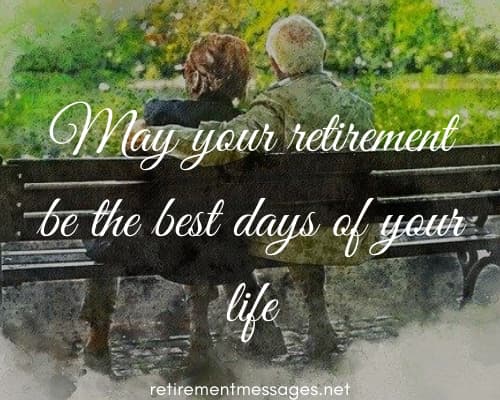 May your retirement be the best days of your life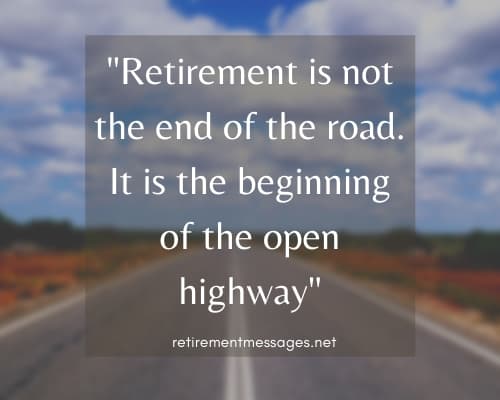 Retirement is not the end of the road. It is the beginning of the open highway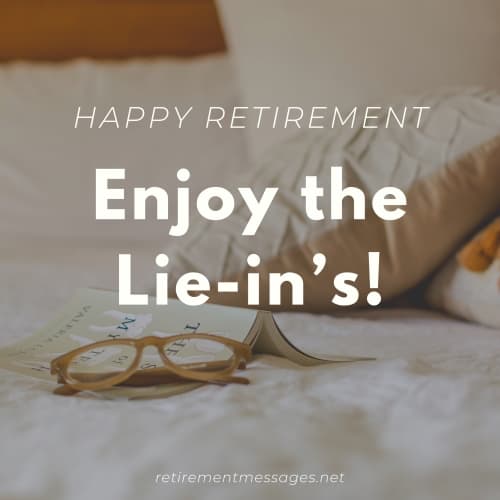 Happy retirement! Enjoy the lie in's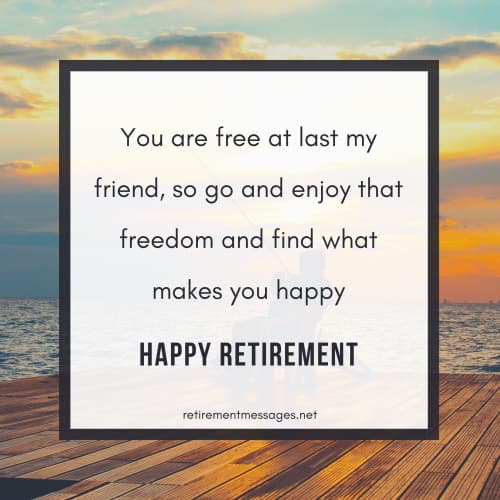 You are free at last my friend, so go and enjoy that freedom and find what makes you happy. Happy retirement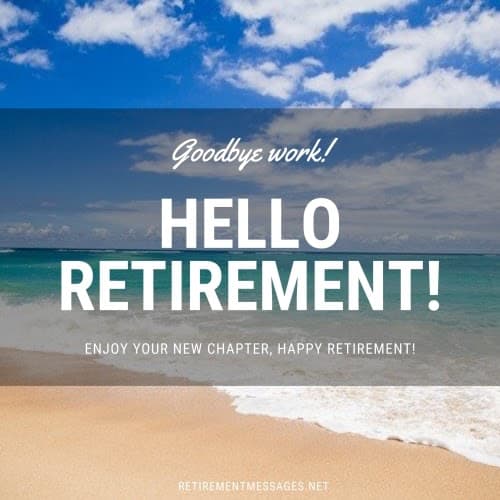 Goodbye work, hello retirement! Enjoy your new chapter - happy retirement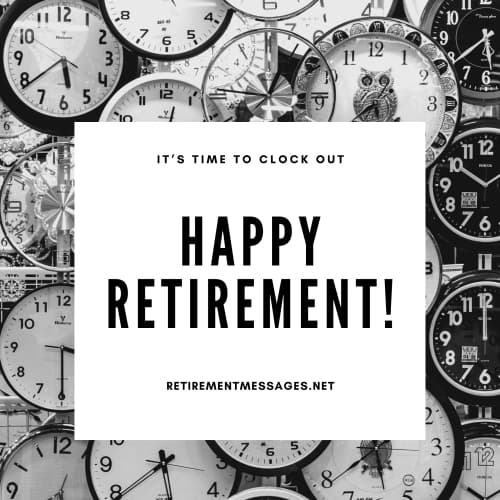 It's time to clock out. Happy retirement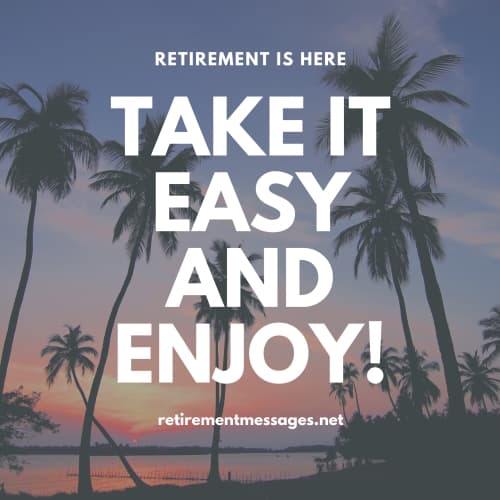 Retirement is here - take it easy and enjoy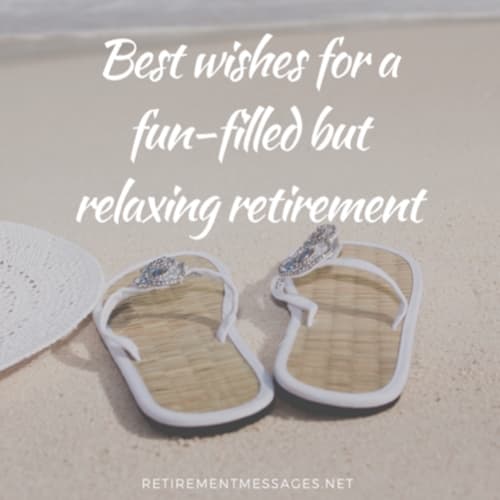 Best wishes for a fun filled but relaxing retirement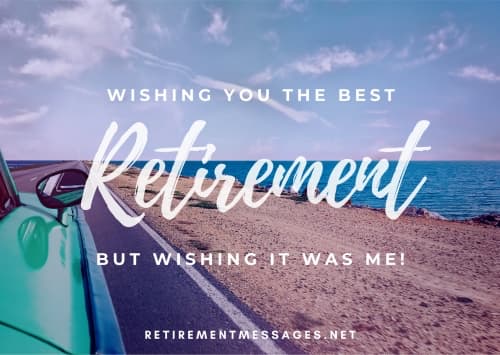 Wishing you the best retirement but wishing it was me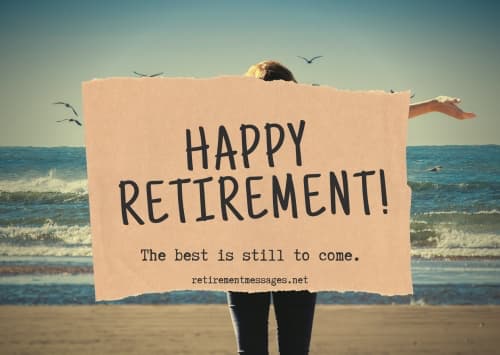 Happy retirement. The best is still to come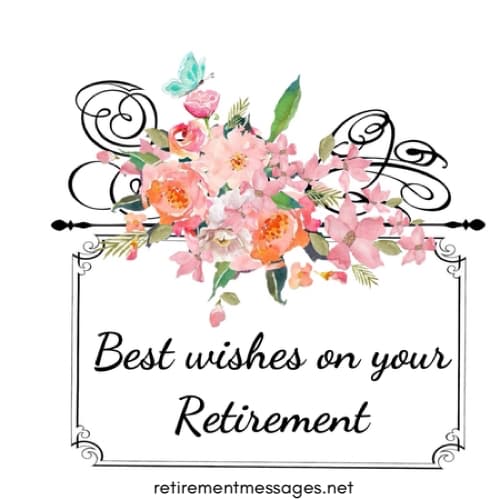 Best wishes on your retirement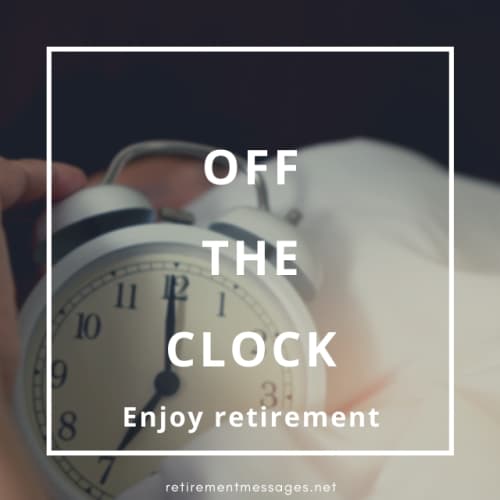 Off the clock - enjoy retirement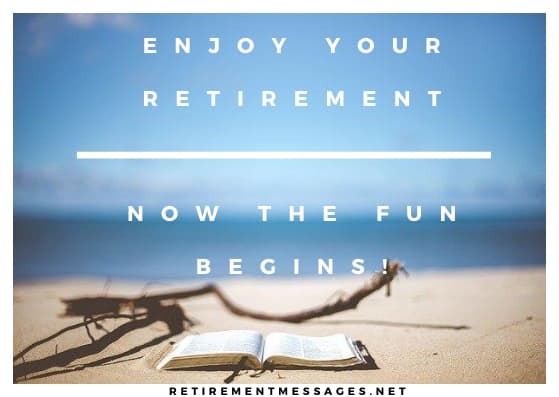 Enjoy your retirement- now the fun begins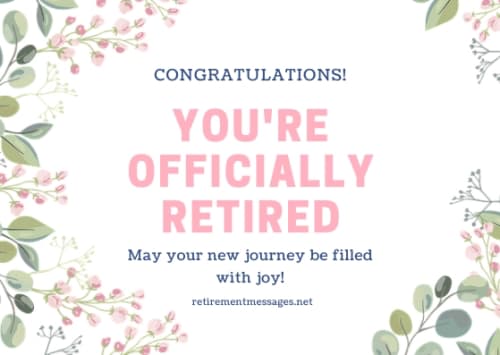 Congratulations you're officially retired. May your new journey be filled with joy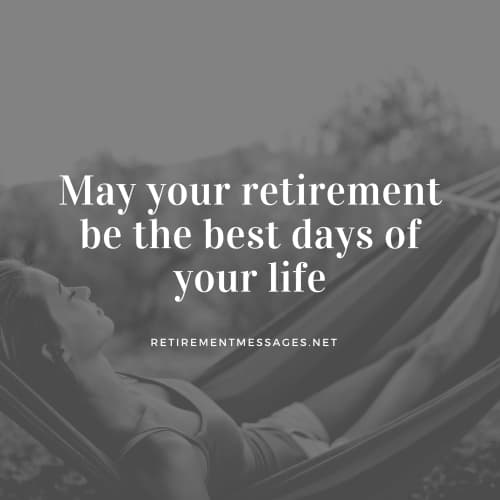 May your retirement be the best days of your life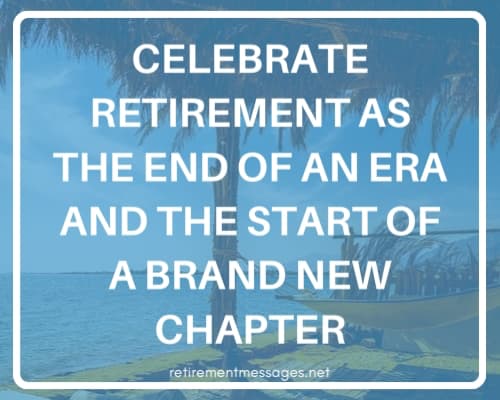 Celebrate retirement as the end of an era and the start of a brand new chapter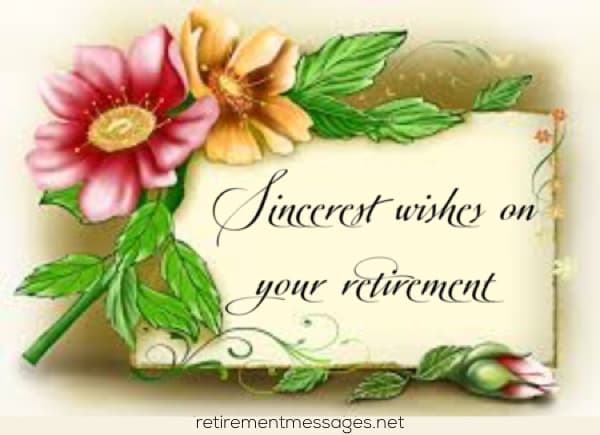 Sincerest wishes on your retirement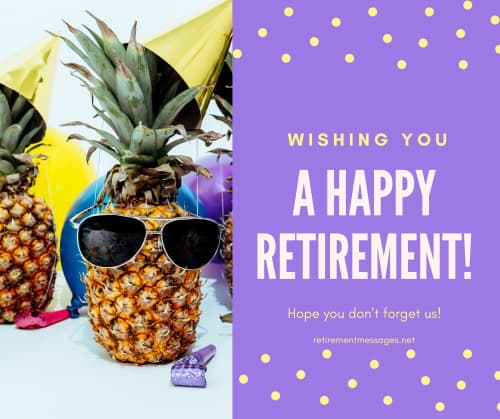 Wishing you a happy retirement! Hope you don't forget us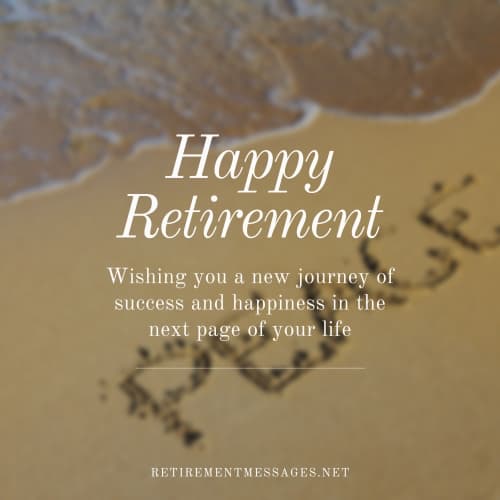 Wishing you a new journey of success and happiness in the next page of your life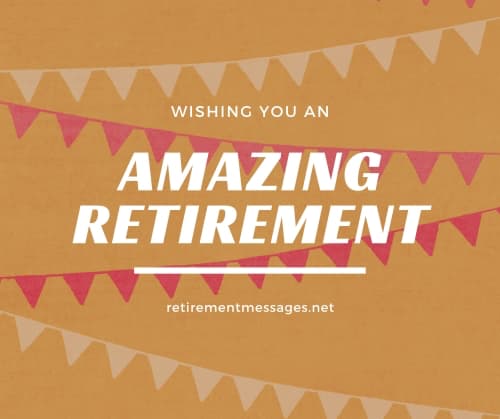 Wishing you an amazing retirement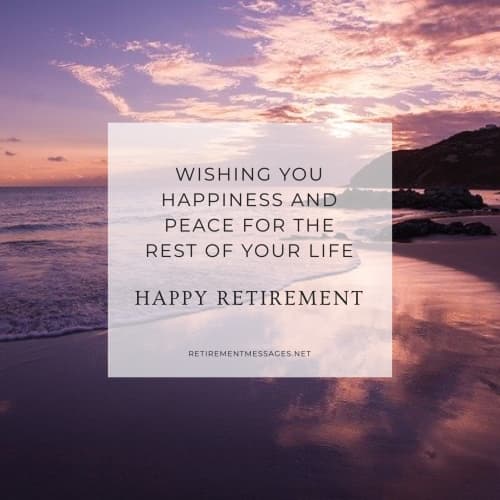 Wishing you happiness and peace for the rest of your life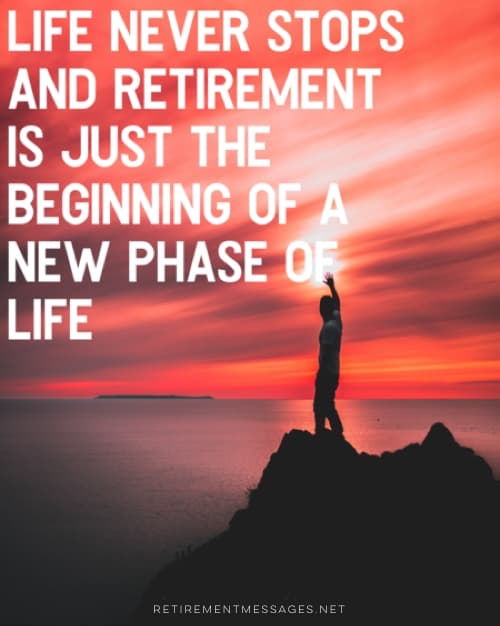 Life never stops and retirement is jurist the beginning of a new phase of life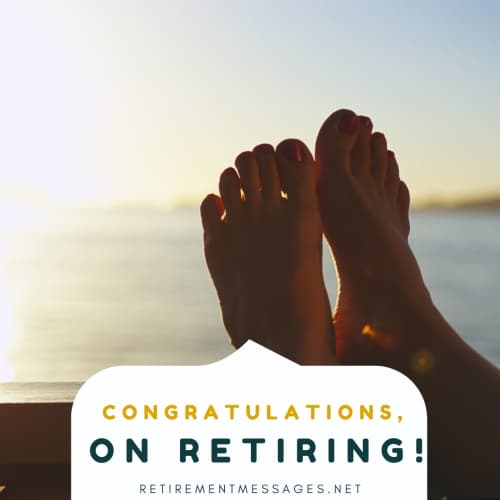 Congratulations on retiring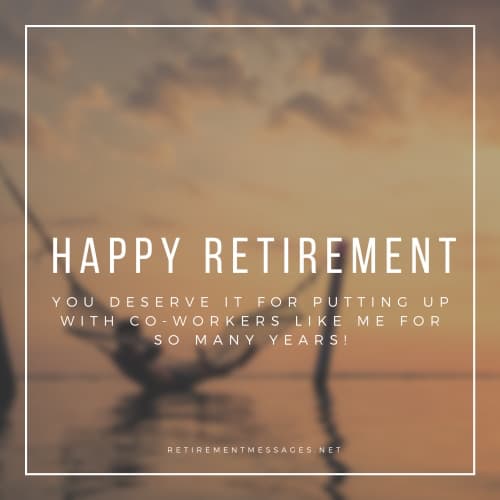 Happy retirement! You deserve it for putting up with a coworker like me for so many years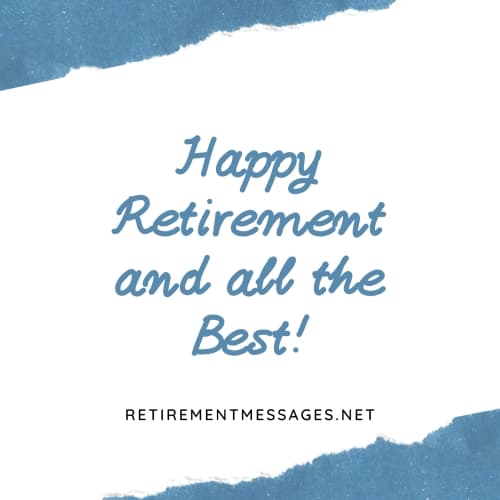 Happy retirement and all the best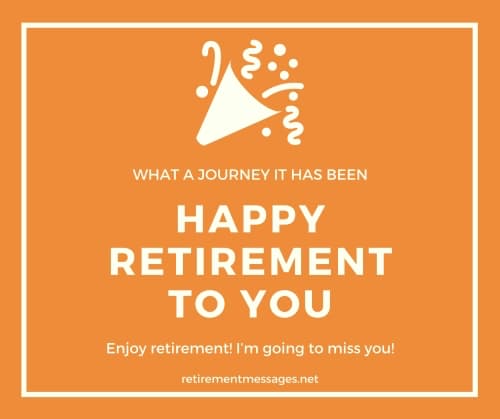 What a journey it has been. Enjoy your retirement. I'm going to miss you!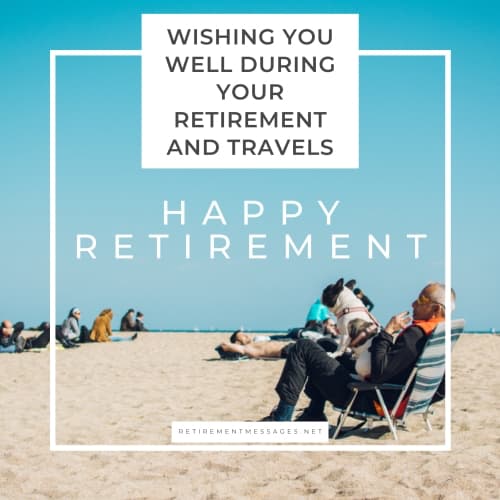 Wishing you well during your retirement and travels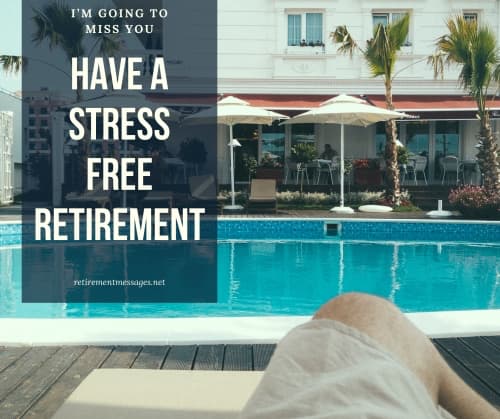 I'm going to miss you. Have a stress free retirement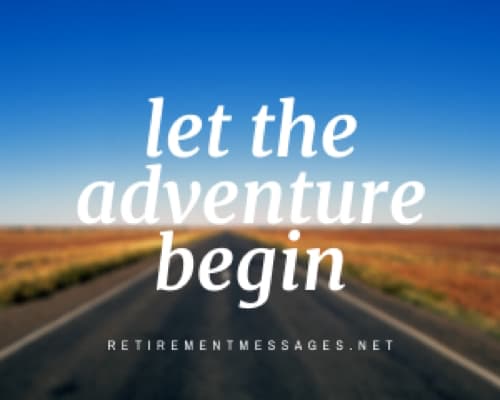 Let the adventure begin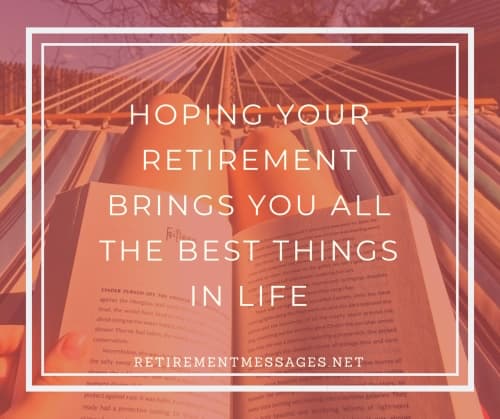 Hoping retirement brings you all the best things in life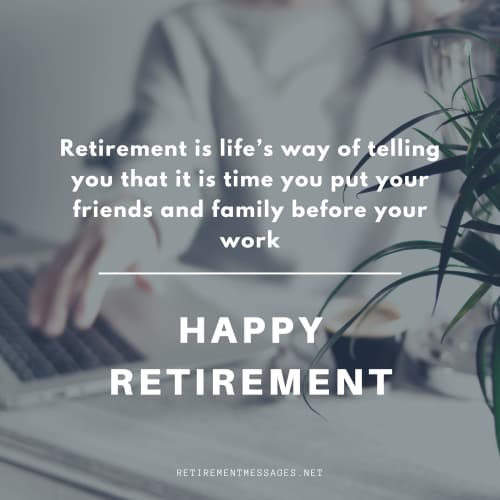 Retirement is life's way of telling you that it is time to put your friends and family before your work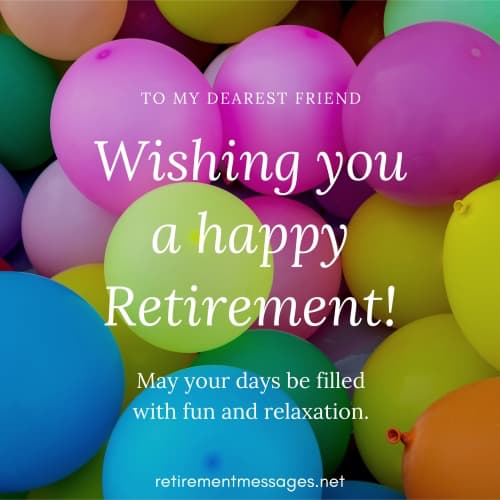 To my dearest friend, wishing you a happy retirement! May your days be filled with fun and relaxation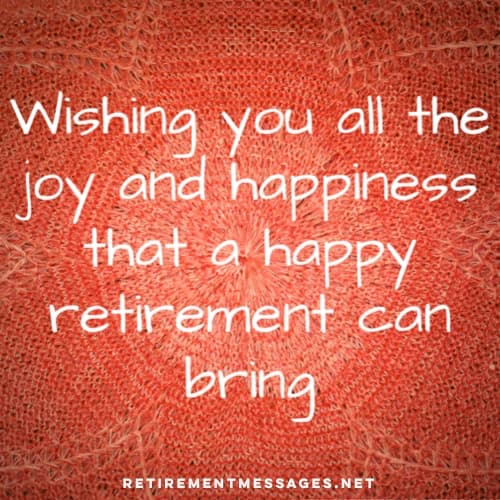 Wishing you all the joy and happiness retirement can bring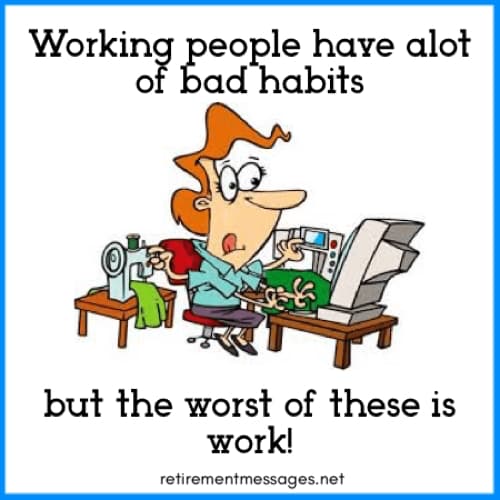 Working people have a lot of bad habits. The worst of these is work!
May your retirement be filled with many new adventures, meaningful moments and much happiness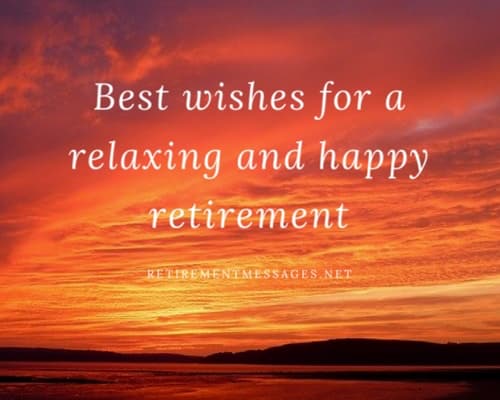 Best wishes for a relaxing and happy retirement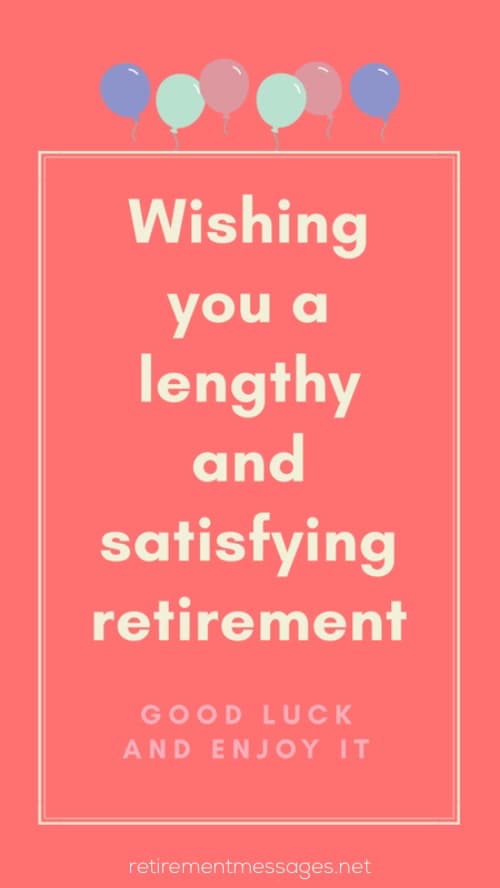 Wishing you a lengthy and satisfying retirement. Good luck and enjoy it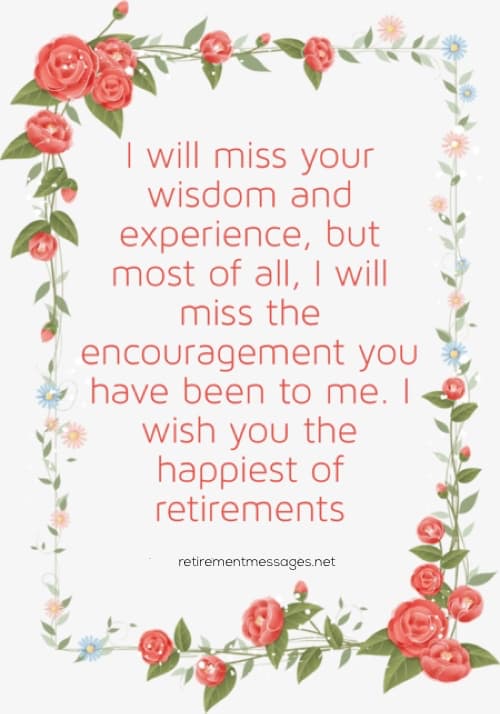 I will miss your wisdom and experience but most of all I will miss the encouragement you have been to me. I wish you the happiest of retirements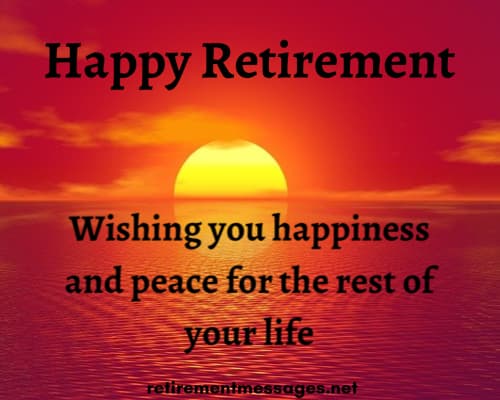 Wishing you happiness and peace for the rest of your life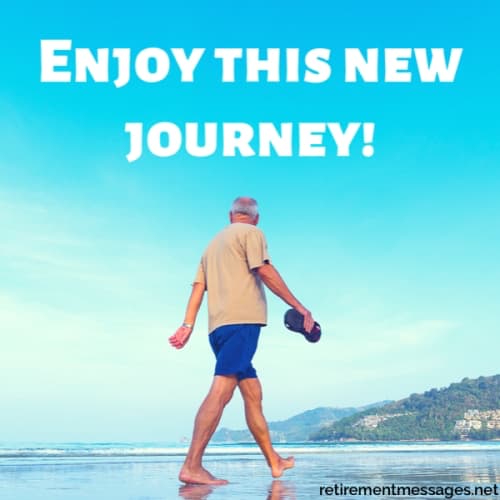 Enjoy this new journey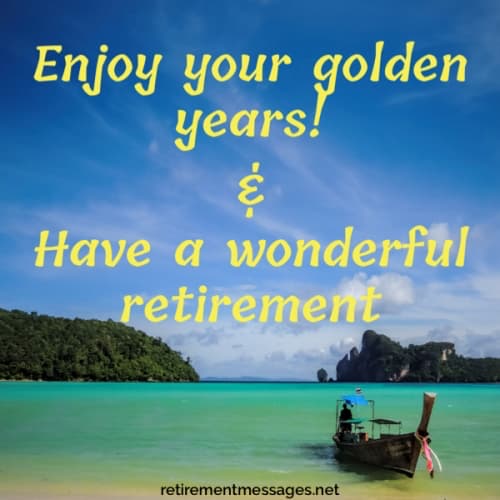 Enjoy your golden years and have a wonderful retirement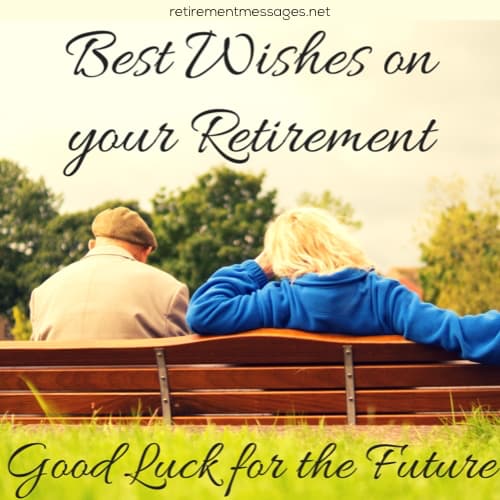 Best wishes on your retirement and good luck for the future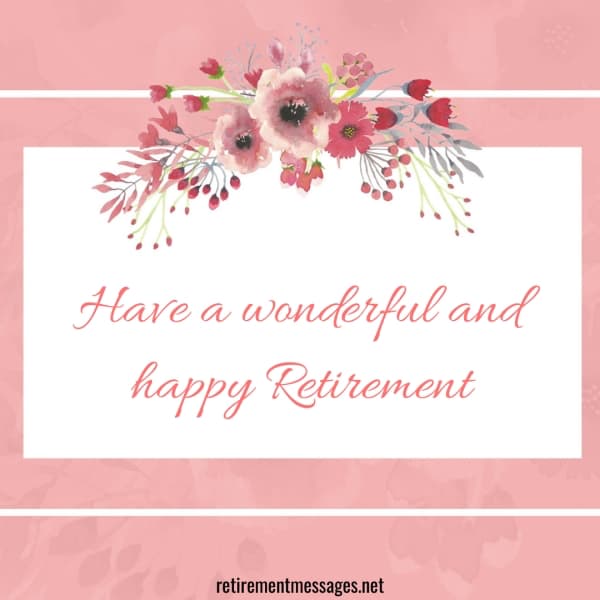 Have a wonderful retirement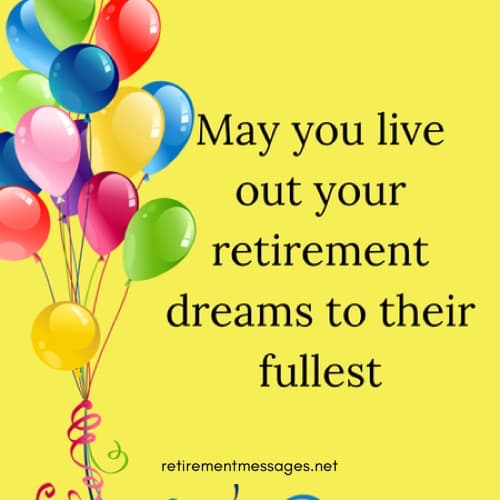 May you live out your retirement dreams to their fullest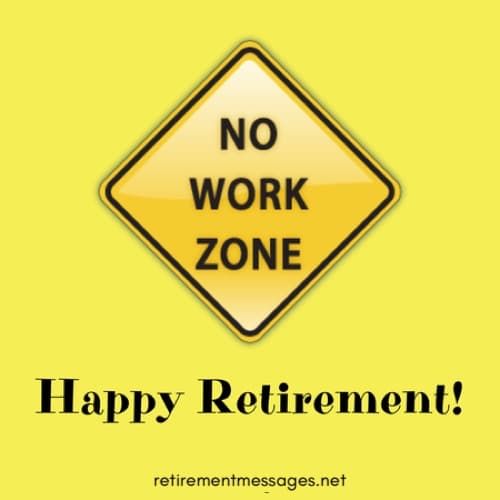 No work zone! Happy retirement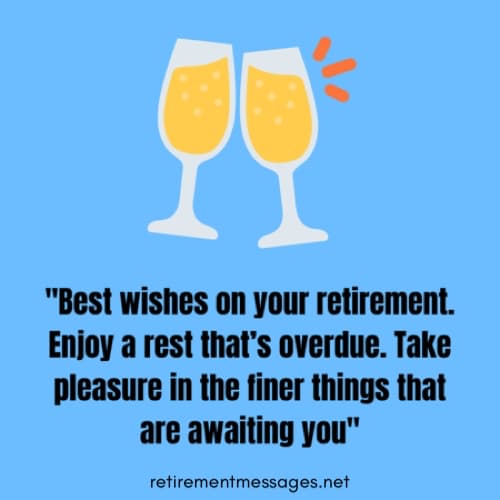 Best wishes on your retirement. Enjoy a rest that's overdue. Take pleasure in the finer things awaiting you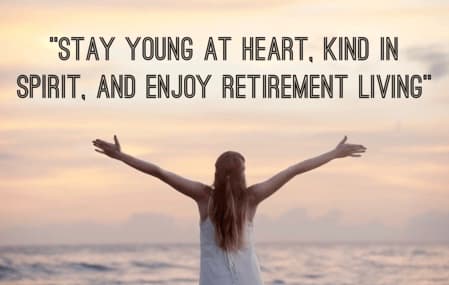 Stay young at heart, kind in spirit and enjoy retirement living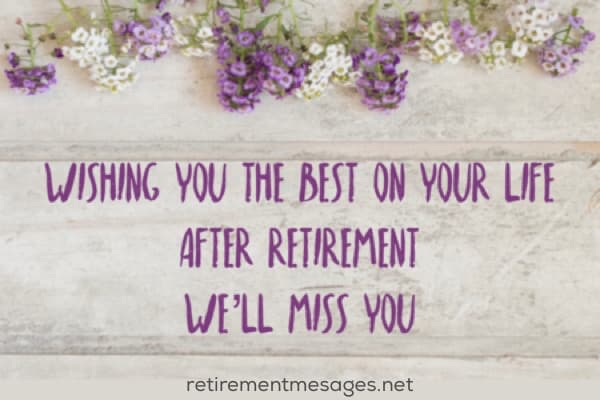 Wishing you the best on your retirement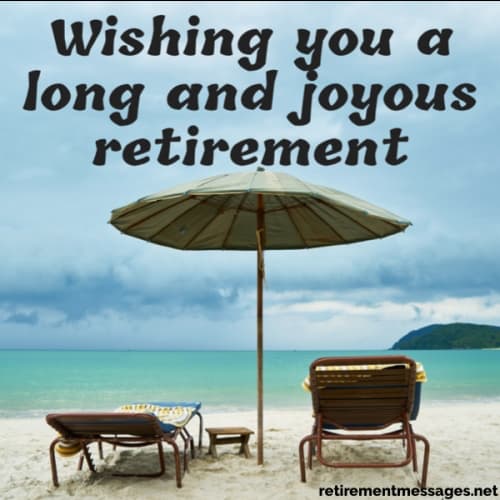 Wishing you a long and joyous retirement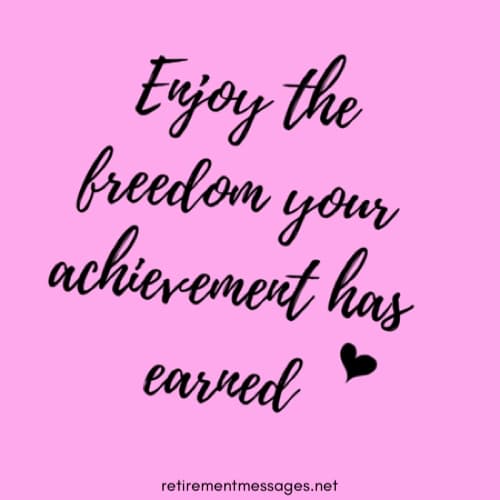 Enjoy the freedom your achievement has earned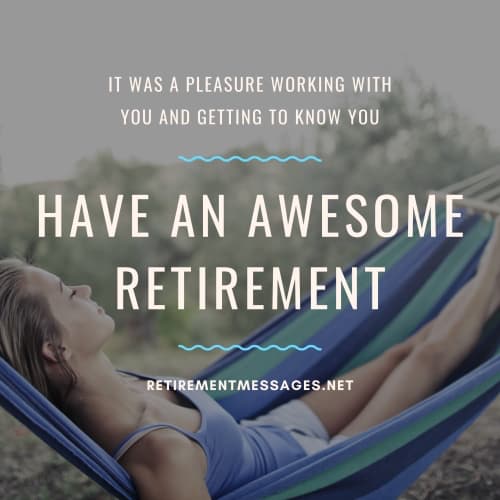 It was a pleasure working with and getting to know you. Have an awesome retirement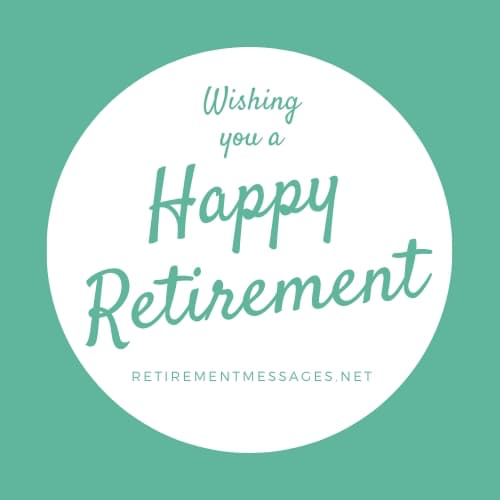 Wishing you a happy retirement
Retirement Resources