Retirement Wishes for a Husband
When your husband decides to or reaches the age of retirement you will probably celebrate.
But what do you say to a husband retiring. What retirement message or best wishes can you use to your soon-to-be retired husband?
Retirement is, for many, when you get to enjoy life. Free time to do what you want.
And even more so as a couple. A wife may get to see her husband more now he's been set free from work.
So it's something to look forward to. You want to wish your husband all the best and show him what a magical time it's going to be for him, but also for you both as a couple.
If you're struggling with how to wish your husband a happy retirement then try these retirement wishes for a husband and let him know just how happy, pleased and excited you are for him.
Retirement Wishes for Husband
Congratulations to my wonderful husband! Here's to a happy retirement
Let's look forward to all the exciting things we can do now. The future is bright for us. Happy retirement
Happy retirement hubby! I'm going to spoil you rotten now I've got you home
Just think of all the things we can do. Everting we've planned and dreamed about is within our reach. Let's go enjoy your retirement!
You deserve such a happy retirement after the years of service and dedication you've given. I'll be there by your side to make sure it's everything you wanted
Retirement is the beginning of a new chapter and many new adventures. We'll embrace it with both hands and enjoy the ride! Happy retirement darling
Your retirement means freedom at last. It's your time now to do whatever you want. Enjoy it, honey
To my special husband, the most important man in the world to me, have a fantastic retirement! Love you so much
All your hard work has paid off and you can now enjoy years of rest and relaxation. Congratulations on retiring
I love you so much and can't wait to see you really enjoy life to its fullest now. Have a spectacular retirement
Here's to many, many years of happiness and fun now you're retired. Congratulations to my amazing husband
Seeing the grandkids, vacations whenever we like, golf weekends for you - retirement is going to be pretty good! Congrats
We're about to start an amazing new chapter of our lives where we can fill our days with all the tunings we've wanted to. Happy retirement
Dearest husband, today marks the start of your life free from work. Enjoy all the peace and quiet it brings. Happy retirement!
Your achievements can't be understated - you've had an amazing career and have earned a long and luxurious retirement
The while family are delighted that we're going to get to spend lots more time with you. We are so proud of everything you've achieved, congratulations on your retirement
To my darling husband, I'm at my happiest when with you, so the coming years where we can spend as much time as we like doing what we want will be a dream come true. I love you, congratulations!
We're going to make your retirement the most incredible time of our lives. It's going to be everything we talked about then more. Get ready for the best time of our lives. Happy retirement my amazing husband
Working life has been hard but you've made it through. Those years of hard graft have lead to this moment. Let's seize this opportunity and never look back. Happy retirement from your loving wife
With retirement you get to spend all your time with me, your wife! Don't worry, it won't be that bad!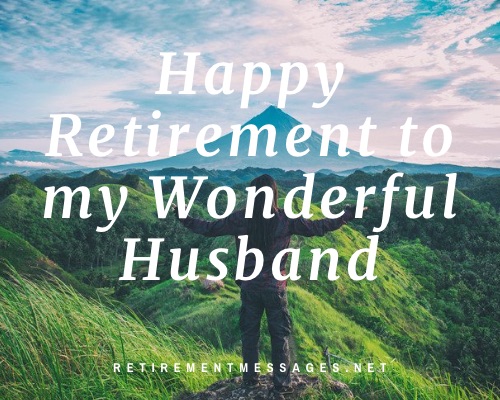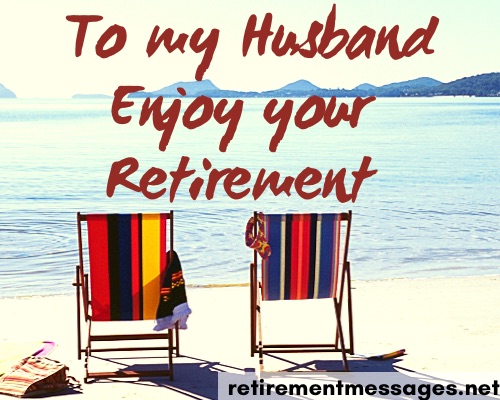 ---
Retirement Messages for your Husband
All those years of work means you can appreciate the sweetness of retirement! Congratulations my hubby on your big d
Enjoy the deserved and long time coming rest. You've put in all the hard work and will now reap the rewards. Happy retirement
Work and colleagues will miss you but I feel like I'm getting my husband back. Here's to us enjoying our golden years as a couple again. Enjoy your retiring my dear
I am so looking forward to all the time we will have to spend with each other now. We can look forward to laugher, fun and happiness. Congratulations
It's time to put yourself first. Up to now you've sacrificed to provide for us, your family. Well now it's all about YOU. So let's do what you want have the best retirement you could imagine. Congratulations darling
No more awful commuting, no more 9-to-5, just endless days of relaxation and freedom. Sounds like bliss, doesn't it? That's our lives now! Happy retirement
I'm so exited to share all the new adventures with you. Happy retirement!
To the most important person in my life - here's to having a special retirement that meets all your expectations then goes beyond
We are going to cherish every single second of your retirement and get as much as we can out of it. There's no stopping us now! Happy retirement
They say that a retired husband is a full time job for us wife.. if that's the case then this wife is looking forward to her new career!
You've earned this retirement. Grab it with both hands and don't let go! I'll be right beside you the whole time
I'm looking forward to all the years we get to spend together in your retirement. It's going to the most fun we've had in decades
Time to start living life on your own terms and doing things your way. Happy retirement honey
Best wishes for a long, happy and healthy retirement. It's long overdue!
Retirement Resources