Retirement Messages for Father
For many people retiring is a huge event in their, and their families lives. And when it's a father who has often sacrificed so much to provide for the family it takes on an even greater importance. It's his time to enjoy some well earned rest and relaxation and every family member will want to celebrate his big day. But that celebration can bring about a tricky situation - what do you say to your dad who's retiring?
You will undoubtedly want to wish your dad well on reaching a milestone as big as retirement, and probably talk about how much you appreciate all he's done for you. But it can be difficult for some people to fully express the way they feel about someone they're close to like their dad. Hopefully if this is the case then the example retirement messages provided below will help to wish your father a happy retirement and let him know just how delighted you are.
Short Retirement Wishes for Father
To my amazing father, I hope you have a truly fantastic retirement
Happy retirement dad! You deserve a well earned break
Your decades of hard work means you deserves a happy retirement more than anyone, dad. Here's hoping it's all you dreamt of
Dad, you always provided for us through your relentless hard work, and I really hope in retirement you find the happiness you deserve
Happy retirement to the best dad there could ever be. All my love!
As my provider and father you have made sure I never found myself wanting of anything. Now is the time for you to put yourself first. Have a wonderful retirement
Congratulations on retiring dad. No one is more deserving of a long, extended break from work as you are
Dear dad, my one wish is your retirement is filled with as much joy as it can be
Three cheers to your never ending vacation - retirement! Enjoy it all, dad
Now is the chance to do all those things you wanted to. Make the most of it and have fun
Say goodbye to the boss and hello to lie-ins! Happy retirement dad!
Everything you do from now on is down to you. Your choices, your freedom - live life how you want
Just want to say thank you for all you've done dad. Have an incredible retirement
Congratulation on your retirement dad. You've always been and always will be my inspiration
I've learnt a lifetimes of lessons from you and seeing how hard you work has been the perfect example. Have a truly special retirement dad
I'm beyond proud of you dad, as you should be. Your career has been so impressive and you deserve huge congratulations on retiring
Biggest benefit of your retirement? Getting to spend much more time with me! Happy retirement dad
Congrats dad! Let your weeks and months be nothing but fun and excitement. Have an awesome retirement
All your hard work has paid off dad. Enjoy this moment - the freedom and relief. Retirement is all yours.
Celebrating your retirement and the hope you find happiness away from work. Love you dad
I hope retiring brings you as much happiness as it possible can. Wishing you years of stress-free living
Congratulations dad! The late nights and overtime have lead you to this point. Time to put those feet up and kick back. Enjoy your golden years!
May your retirement bring you the happiest of memories that last a lifetime. Happy retirement papa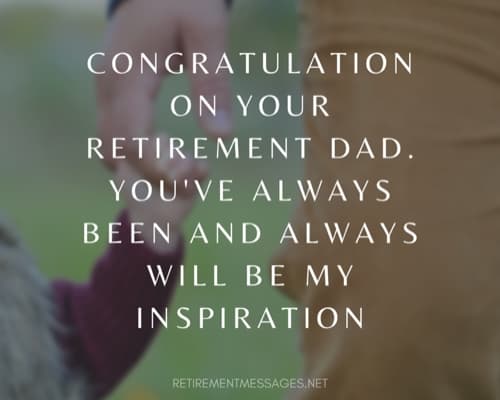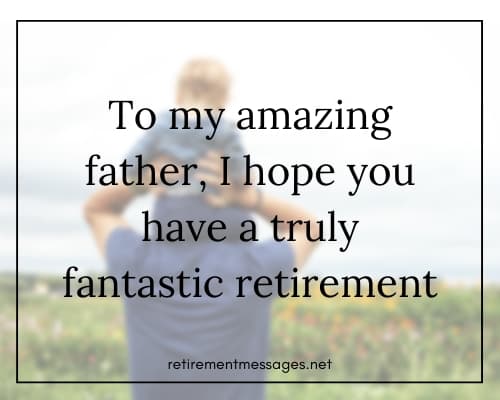 ---
Happy Retirement Quotes for Father
So please you're retiring dad and so pleased about all the time we can now spend together. I'm going to help make it as memorable as can be. Love ya!
Here's to a perfect retirement filled with many, many years of good health and brilliant memories. Happy retirement daddy!
You have been a strong and fearless presence throughout my life and always made me feel secure. I can't tell you how glad I am you're now going to be able to have time off. Enjoy retired life, dad
The whole family is so proud of you. Your attitude to work and commitment have been an inspiration and you deserve a truly special retirement. Enjoy yourself and take it easy now - its your time. Wishing you really happy retirement.
I know how much you've been looking forward to all the free time and no more pressure that retiring brings. I'm so pleased for you and know you're going to enjoy yourself so much more now. Wishing you all the happiness in the world dad
We're making a big deal over this because you know dad, retiring is a big deal! After all this time you're finally getting your reward. And we couldn't be happier for you. Congratulations on your retirement dad!
I don't say it enough but you're my hero dad, and you always will be. It brings a smile to my face to think of all the amazing experiences you're going to have now. Enjoy your retirement to the max!
You've done your bit - worked so hard and provide for your family. It's now time for us to do ours and take care of you. We'll make sure your retirement is as incredible as you could have ever imagined.
A lifetime of hard work deserves a lifetime of rest. I can't promise a lifetime but I can promise years of relaxing and stress-free living. Sound good? Welcome to your retirement dad!
Always remember that we will need you dad and that you will forever have a place in our lives. Congratulations on retiring
It's your tireless work that has helped us to reach for the stars and fulfil our dreams. We're so grateful and now so delighted to see you get a rest. Enjoy every second your retirement dad
May your retirement lead to all the happiness in the world. I hope the coming years are the best you've had, dad
The sacrifices you made for us were many, so it's time to make yourself number one. Here to a retirement that results in the happiest period of your life
Happy retirement, dad! There's no one to tell you what to do anymore. Enjoy that freedom and rest as much as you like
Here's to the new chapter of your life bringing you laughter, happiness and good times! Happy retirement dad
Wishing the best dad in the entire world the happiest of retirements. May your days be filled with love and good health
Your endowing spirit is so amazing and I know for certain you will embrace retired life like you have everything else - with good grace and positivity. Enjoy, dad!
Retirement Resources