Retirement Quotes for a Coworker
At the end of a long career of hard work retirement is often something to look forward to. It can be the start of a new chapter of someone's life, one that gives them the opportunity to do as they please and spend time with the people they care about most. This new beginning brings exciting change and for most is embraced with open arms
If a coworker or colleague of yours is retiring be sure to wish them a happy retirement. It's likely they will have spent many years working, possibly at the same company, so it is right to celebrate their achievement and reflect on those years of service. You may have an anecdote you want to share regarding their career, or a memory that stands out if working with them. Whatever way you choose to express your sentiments try this selection of retirement quotes and sayings to inspire some heartfelt and kind words for your colleague.
Retirement Quotes for Coworkers
However will you get along without seeing my face every day? Never mind, I'm sure you'll manage. Best wishes on your retirement
You are the kind of person that brings the best out in others! Thank you for everything you did. Wishing you a life full of success and happiness!
Retirement is the reward you get for putting up with co-workers like me for many years. I wish you the best!
It was a pleasure working with you and getting to know you. Have an awesome retirement!
We will miss your wisdom and experience, but most of all, we will miss the encouragement you have been to us. We wish you the happiest of retirements
We'll miss you. You are one of a kind, and will not be easily replaced. Enjoy your retirement
Wishing you the best through retirement, but please come back to visit periodically
Some people just know how to bring out the best in others. You are this type of co-worker! Thank you for everything you did. Goodbye and good luck!
We're really going to miss you! Hope you'll enjoy every minute of your retirement. Best wishes!
You'll be missed so much! Best wishes on a fantastic retirement
Best wishes for a fun-filled but relaxing retirement. I'll think of you often. But now forget all meetings and worries – it's your day!
While you are out having a good time and living the great life, think of us here back at work! Happy retirement
I wanted you to know what a blessing it's been to work with you over these past few years. Hope you'll enjoy every minute of your retirement. We're really going to miss you!
You made this a great place to work! We will miss your smiling face, and hope that you'll visit us when you have time. Farewell partner!
You're an important part of this company and now you're retiring, you'll surely be missed. I pray that you enjoy all the years ahead. Happy retirement
I wish from the bottom of my heart to say – I couldn't have wished for a better coworker. Enjoy your retirement and continue to spread your positive energy! Happy retirement!
It's great to see someone retire who is as deserving as you. Make sure you work just as hard at relaxing as you have in your long career
Congratulations on your retirement. Your experience, knowledge, dedication and presence will be sorely missed. Best of luck in your brand new adventure!
I wanted you to know what a blessing it's been to work with you over these past few years. Hope you'll enjoy every minute of your retirement. We're really going to miss you!
Here's to you and your family: success and a bright future with the time to do the things you have always wanted to do. You will be missed.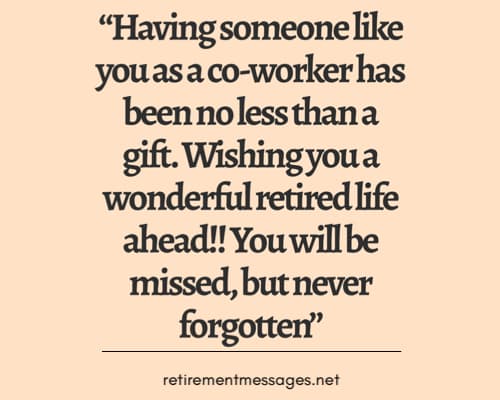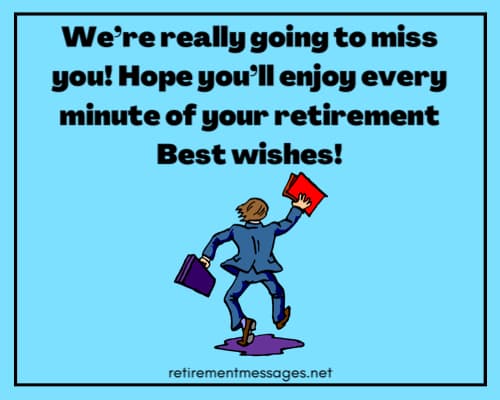 ---
Retirement Wishes for a Colleague
We'll miss you. But, the time is right for you. I sincerely hope that retirement is wonderful and I wish you lots of joyous time with your family
Happy retirement! I know you can look back on your time with us as one of achievement and a job well done. Here's hoping that you find the same in whatever adventure you have planned next
Having someone like you as a co-worker has been no less than a gift. Wishing you a wonderful retired life ahead!! You will be missed, but never forgotten
Enjoy the freedom your achievement has earned. Happy retirement
You will be missed, but happy for your new adventure!
Your career's biggest souvenirs are your colleagues' good wishes. Happy retirement
We're really going to miss you! We hope that you'll enjoy every minute of your retirement
Retirement is when you finally stop doing whatever the boss tells you to do and you start doing what your heart tells you to do
We've always enjoyed your company here at work and we're really going to miss you a lot. Best of luck
I could almost envy you all those free hours away from crazy and complaining clients, phones that ring endlessly and sometimes too high expectations from the superiors. Those end now. Enjoy your retirement, my friend!
To one of the best people in the office, congratulations on your retirement!
You were more than just a co-worker, you were my friend. Have an amazing retirement
We never had a dull moment or a slow day in the office when you were around. Even though you were the eldest, your spirit was the youngest. Goodbye
We still can't imagine working here without you, but I guess we'll have to manage somehow. Thank you for your years of dedicated service
Thank you for all of your dedication. Now you can relax and enjoy the scenery around you!
You embody hard work and optimism. Thank you for bringing such joy to the office. We will miss you!
You have taught me so much. I hate to see you go, but am so happy for you and your family's new life. Enjoy!
What to Say in a Retirement Card for a Coworker
Finding the words to say to a retiring colleague can be difficult. But shouldn't have to cause too much stress. Just taking the time to let your coworker know you remember their contributions and will be sad to see them leave can go a long way to making them feel better about their retirement. So spend a few minutes thinking of what they mean to you and the words should come fairly easily.
This comprehensive selection of retirement quotes should help you get the best message for a coworker or colleague and hopefully provide some inspiration to make your message really thoughtful. However, if you would prefer to use your own words then try these ideas.
Focus on their best characteristics and what you admired most about them.
Talk about any occasion they may have helped you during your time working together.
You can reminisce about good times or perhaps a funny anecdote involving the retiree.
Mention you are thinking of them and will miss them as they finish they're working career.
Maybe even talk about what they have planned for the future or arranging to meet them outside of the working environment once they've settled into retirement.
---
You are free at last my friend, so go and enjoy your freedom and find something less stressful to do. Happy retirement to you
To stay balanced in life, work like you're retired and retire like it's your job
In terms of profit and loss, your retirement is a loss for your colleagues and a profit for your family. Farewell
Today is the beginning of the rest of your life and I know that just as you worked hard in your job, you will work even harder to enjoy your retirement
Thanks for all your hard work through your working years!
Working with you was such a pleasure. I always appreciated your thoughtful, steady approach to solving any problem large or small. You proved that it doesn't take a loud voice to accomplish tremendous things. Best of luck, and enjoy your retirement!
We will always remember you for the days spent with your encouragement and support. We are really going to miss you; we will always keep you in our hearts!
Thank you for brightening our days on job with all beautiful moments that you gave to us. Thank you for the incredible energy that you brought into our team. You indebted us! Happy retirement!
We really appreciate the things you have done for us so far with a smiling face!
Even though you're through with work, we know you'll be busier than ever. There is no rest for the wicked!
Congratulations on your retirement! Wishing you endless days with your friends and family
Congrats, you're now your own boss! You've inspired me to always stay passionate. A colleague like you is irreplaceable. Happy retirement, it's well deserved!
Retirement opens the door to new opportunity. I can't come with you in your new endeavors, but my highest hopes for your future can. Happy retirement
You've been promoted to the retirement stage of your life! Congrats!
Retirement is the working person's wish come true. Here's to finally getting your wishes granted!
Retirement is not the end, it's a new beginning
Appreciate all your kind words and teachings. You will be missed
Thanks for your advice, dedication, and helpfulness. We will miss you
To one of the best people who has worked at this office: I'm sad to see you go but wishing you all the best in this next stage of life!
Thank you for all your hard work and dedication. Congratulations on your retirement!
We have had our good days and bad days here on the job but one thing that I learned about you is that you never give up and you never bow down in defeat. May this courage and strength take you far, and may you enjoy your retirement. Best wishes to you
---
Sample Retirement Coworker Message
The goal of this website is to make writing a retirement message much easier so that you can offer the retiring coworker any support and friendship they need as they begin the next phase of their life. One way to make your card more noticeable and different is by adding your own personal touches to it. Think about including a gift or writing about the time you spent with your colleague. Anything that adds a bit extra to a standard message or quote.
Funny Retirement Quotes for Coworkers
You may want to put a smile of the recipient of your card. If so then give them a laugh with one of our funny retirement messages for coworkers. A funny message for your dear colleague can help them feel more comfortable about retiring and maybe look back on some hilarious moments you've shared together. Or just a funny one liner will give them a chuckle as they head off into the sunset.
---
I am happy to see you retire at just the perfect time. Actually, any time is the perfect time to retire
Retirement isn't all it is cracked up to be. It isn't for us, anyway. Enjoy your well-deserved freedom and know you will be missed
I will miss your sunny disposition, your friendly smile, the donuts you brought in. Wait, it was you who brought the donuts, right? Happy retirement
Your new quarterly goal: avoiding anything that resembles work! Congratulations on your retirement!
Just because you're retired doesn't mean you stop taking coffee breaks. Be sure to schedule me in!
Anyone who complains about being put out to pasture has been in the harness too long. Enjoy your retirement!
Now that you're retired, you're going to have to find something new to complain about. Don't worry, it's comes pretty naturally
Your new job now is to ensure that you enjoy your retirement. The hours are flexible, and you have complete autonomy
I would be happy for you if I wasn't so envious! Enjoy your retirement
Retirement will be a difficult time for you: no getting up with an alarm, no boring staff meetings, no watching the clock tick down those last, long minutes before quitting time. However will you manage?
---
Retirement Messages for Colleagues
Think about a message or quote you could share on Facebook so that other colleagues can join in wishing them a happy retirement. Email and social media make it simpler than ever to send best wishes to someone for a big event like retiring. So keep this in mind when deciding on the words or saying you're going to use.
Retirement Farewell Message to Coworkers
Depending on the nature of the coworker retiring you could offer them a prayer for the best in their future. However you must be certain they would appreciate such a gesture - some people would find such a religious sentiment uncomfortable. But if you know them well enough then it would be a lovely way to spruce up a retirement card.
Stock up with lots of drinks, good music and delicious food – the biggest party of your life is about to start. Happy retirement
Happy retirement! You'll be missed but never forgotten!
Wishing you a long and enjoyable retirement!
Best wishes on your next adventure!
If you put in as much effort enjoying your retirement as you have working with this company, it is sure to be a success!
The office will feel so different without you. You'll be missed terribly. But we're all happy for you. Enjoy your retirement
You have been a valued asset at this company, and we are sad to see you go. If you put as much effort into enjoying your retirement as you have all the years you've been working, you'll have an amazing, productive, dynamic and long lasting retirement. You deserve it!
Just wanted to say that I found so many of your ideas inspiring. It's hard to imagine our workplace without you! I hope retirement brings you the chance to do whatever it is that you always wanted to do but didn't get to. All the best!
I just want to say, "Thank You." You always listened, you always had something constructive to say, and you always offered support and encouragement with an unflagging spirit. I've learned so much from you, and I will miss working with you. Keep in touch, please
This company grew because you were a very important part of it. Now that you are leaving we know that you will be irreplaceable and much as we would have liked you to stay on the time to say good bye has come. You will surely be missed
To say you will be missed seems like such an understatement. You are one of those rare people who instantly became a friend instead of "just" a coworker. There are no words to truly reflect how much we will miss working with you. Not to worry, though, I'll stalk you on Facebook! Now, get out there and show the world just how much fun is possible
You always dreamed of being your own boss and now it is finally happening. From today and onwards you are answerable only to yourself, take coffee breaks when you feel like, your lunch breaks can be as long as you want them to be, and best of all you don't have to come to work at all. Happy retirement to you
Your guidance and encouragement have helped me and so many other coworkers thrive in a very competitive environment, and we've been so fortunate to have your expertise to rely on. You'll be missed, but I know your retirement is the right thing at this time. May the next phase of your life bring you all that you seek and more
Retirement Resources